Help with Quick Ordering
The quick ordering tool is provided for those customers who are already familiar with what we carry. Only those plants currently listed as available will be returned as search results.
To begin, start typing part of either a common or botanical name: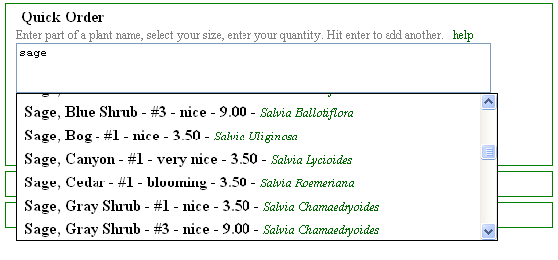 A list pops up at the bottom of the box with a list of available plant sizes whose names matched your search string. You can use your mouse cursor or the down arrow on your keyboard to select the size you want. If this list doesn't appear, try reloading the page and reentering your search term.

The plant name, size, status and price will appear in the entry box in place of your text. Do not change this text, as it may prevent your order from being processed (no, you can't change your own price)
To enter a quantity, simply type it on the end of the line.

To try another search, hit enter and begin on the next line.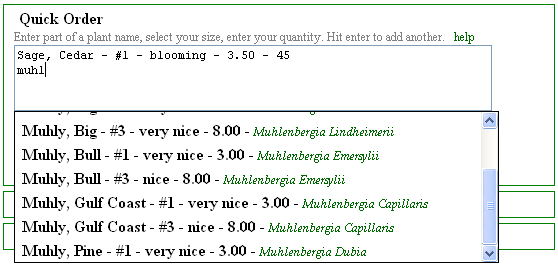 To order flats of four inch pots, you can put an "f" after the number. This will calculate your order based on 18-count flats. Occasionally we use 20-count flats, and will adjust your total upon invoicing.

The
PO#/Note
field is optional, and is primarily for your reference, so you can enter whatever you want to here. If you include the words "test" or "quote", we'll ignore the order until you change it.

You can select your order date for any business day in the next few weeks, excluding today. If you need your order today, please place it for tomorrow and then call us to let us know you need it today.

After you click on Save Order your order will be listed in the My Orders window in the left hand column.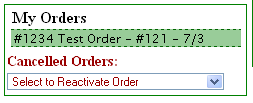 Clicking on your order will open it in the View Order window located below the Quick Order form.